Pellet conveyor - external auger
The pellet conveyor (external auger) transports pellets from the pellet container to the burner. The burner controls the work of the external auger. The external auger is connected to the burner with a special ∅ 60mm hose. The hose is made of melting polyurethane material. It acts as a safety measure against back-burning because melts in back-burning.
External auger can be fixed to a ceiling or container depending on conditions at the site. Figure 11 depicts correct installation of external auger. As melting hose is a safety element, it has to be installed strictly as follows:
Hang auger to ceiling or fixate it to the boiler in the way mentioned below.
Install hose between auger and burner. Fixate hose with 2 brackets from both ends.
Connect auger's cable to burner. Make sure that plug is surely connected with socket.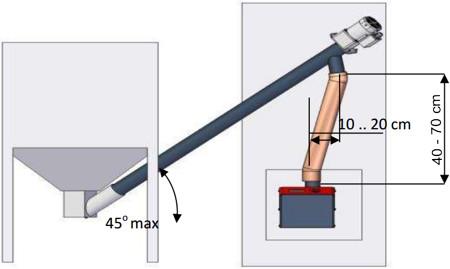 Be sure, that:
The vertical distance between the output of external auger and burner has to be 400 – 700 mm.
The horizontal distance between the output of external auger and burner has to be 100 – 200 mm. It ensures hose to be smelt when back- burning arises and fire does'nt reach to container.
The raising angle of the auger must not exceed 45° to ground. Vice verse auger doesn't manage to transport enough pellets.
In order pellets can freely fall into burner the falling angle must be between 50° and 85°.







Pellet heating set
1. Pellet boiler
2. Pellet conveyor ( external auger )
3. Pellet pipe
4. Pellet burner
5. Pellet hopper